Siras Systems Newsletter
New HOT Features Introduced in Response to User Requests
You can now create a list of students by EL Assessment Type (CELDT or VCCALPS) and their accommodations. Choose the EL Assessment Type and add EL Test Accommodations to the search criteria. Edit the list and sort by school attending and grade level, if desired. This will give a list of ALL students that are taking that particular test. If you want to refine your list only to students who have accommodations listed on the IEP, check the box to exclude IEPs where the accommodations were left blank.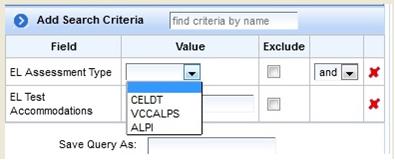 You can now quickly find student lists of overdue IEPs/EVALs by Speech/Language Pathologist. If you have administrative access in SIRAS, go to the Reporting menu/Overdue IEP/EVAL Lists and select by School Attending, Case Manager, Psychologist or Speech-Language Pathologist.



In the Choose Student List, you can now select Grade as a default column by right clicking on the Student ID column and selecting Grade.

COOL Changes Made to Existing Features to make life easier
Parent Response options now appear immediately after checking Meeting Held. If the parent Accepts the plan, all of the CASEMIS data moves over to the MIS Summary. If parent Does not accept the plan/Stay-put, only the IEP dates will advance to the MIS Summary. If any of the other Parent Response Options are chosen, all of the CASEMIS data moves over to the MIS Summary. This new feature will send more accurate data to the MIS Summary based on the Parent Response. Please refer to the help document linked here.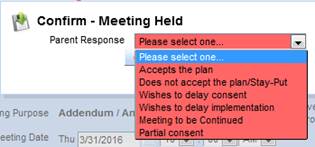 IMPORTANT for all users in SIRAS
There has been a recent change to the Meeting Excusal form. Due to a compliance finding by the CDE, the signature of the LEA representative is now required. Please take note of the added signature line.




The pages have been reordered in the IEP Manager, lending the meeting discussion to a more facilitative sequence, addressing behavior needs prior to the Least Restrictive Environment (LRE). The behavior plan (if needed) is now right after the CAASPP page, followed by the ELD (for English Learners only) and LRE pages. The SELPA IEP agenda and facilitator's checklist have been revised to reflect the change. They are found in the Tools menu, under Added Forms/IEP.



---
Medi-Cal Billing Option:

Siras Systems, Inc. is excited to announce a partnership with Leader Services, a national company that provides technology and data processing solutions to over 1,000 Local Education Agencies (LEA's). Leader has provided Medicaid billing services to LEA's since 1992 and has assisted with generating more than $1.8 billion in reimbursements. Together, we will provide an improved service within IEP management and Medi-Cal billing for our mutual clients. With consent in the near future, we will offer districts the ability of integrating SIRAS IEP data with Leader's Medi-Cal billing software via a scheduled nightly data export option between the two systems. We offer this as a solution to help save valuable staff time on data upkeep while providing LEA's a streamlined IEP management and Medi-Cal billing process with the goal of maximizing reimbursement potential.

If you have any questions, please contact Steve Ormbrek - steve@sirassystems.com
---